Welcome To DASHING DAWGS
Dashing Dawgs Grooming & Boutique is Vancouver's Dog & Cat Specialist.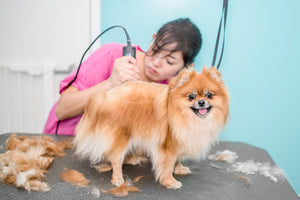 WE CARRY THESE BRANDS, PRODUCTS & MORE!
★★★★★

Wonderful new owners at Dashing Dawgs are very friendly and happy to be taking care of all our pups needs. (Cats too I believe).

Always liked this pet store and my little dog Jodie just got an awesome haircut yesterday and looks so cute!

Debrah Holden
★★★★★

What a treat to have such an amazing shop in beautiful Coal Harbour just steps from the seawall and Stanley Park. The store is fully stocked with the highest quality of human grade raw food, treat, collars, harnesses, leashes and everything in between. They even have these beautifully decorated grain free dog treats gorgeously displayed at the front of the store. You will go home with a few for sure!

The new owner did a beautiful job with the store. She's so sweet and won't let your dog leave without a treat! If I had a dog that needed grooming…this would be the place as they offer Japanese scissoring! I look forward to the many visits to the store even if it's just for a treat!

James Y.
★★★★★

Dashing Dawgs is great!! Took my little ones for a haircut with Mica and they came out looking Fab for the summer!! The price is very consistent, I've been back 3 times and all three times I was charged $60.00 for my little pooches (6lbs and 13lbs). Much Better than the old Bark N Fitz and WAAAAAAY Better than Stanley Bark who charged me a lot higher than the quoted price on their website (not to mention that the groomer at Stanley Bark was horrible!)

Mica is very meticulous, caring and very punctual. Highly recommend her!

VancouverCk.
★★★★★

New Ownership is amazing! Friendly staff, welcoming store to dogs of all sizes with an updated selection of food, treats, and toys to choose from. Have your dogs picture taken, or just stop in to say Hello. My dog Cali never misses the chance to stop by for a snack and some cuddles!

Thanks Dashing Dawgs and welcome to the neighbourhood!

Sharron H.
★★★★★

Doggy Love Given Here! This store was opened for the love of two dogs and now is loved by many dogs!

Pam Stonehouse