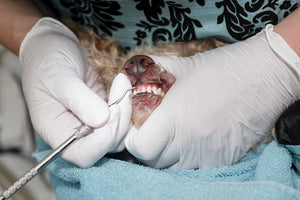 NO SEDATION
DOG TEETH CLEANING
We have provided our No Sedation Dog and Cat Teeth Cleaning service on thousands of pets. We hand scale your pet's teeth free of tartar, plaque and calculus in about an hour without the use of sedation. We scale all surfaces of your pet's teeth and underneath the gum-line. We will have your pet's teeth cleaned about an hour and the best part is no recovery from our service.
How do we do it? As we gain your pets' trust we will start to introduce a toothbrush and hand scaler. Our mission is to provide a comfortable teeth cleaning experience for pet's and their humans alike. We want pets and pet parents to enjoy a lifetime of adventures together.
Our Session Includes:
Removal of tartar, plaque & calculus
Brush & polish teeth, stains & gums
Laser to reduce existing inflammation
Pet report card and review of session
Our all-natural approach without the use of sedation should be considered an extension of care in the grooming process and overall pet care.
Flat fee for dogs under 40lbs $229, 40lbs and over $239. Looking to get your puppy used to the process and how to keep their mouth clean book a session with us $99.
Book Now
Interested in Hosting a Teeth Cleaning Event?
We support your pet store, groom salon, vet clinic, dog day-care, etc. by offering an additional service to your valued customers.

Dashing Dogs Dental offers printed marketing material, social media support, advertising, SEO optimization for event, a commission and more. Please contact us for more details.
Call
E-Mail